The waterfront trails were built during the 2000s around Samostenperä by Kuusamojärvi, the waterline of Kirkkosaari and Kirkkolahti and further on Torankijärvi lakeside. In summer, the trails are part of a more extensive network of trails and paths and in winter, partly used for ski trails.
Kirkkosaari Tour
From the Nilojoki bridge across the activity park and via Partasenlahti to Kela shore and along the Kirkkosaari bridges to Lahdentaus from where back through Perälampi and Samostenpera to the activity park.
The length of the tour is about 2.6 km.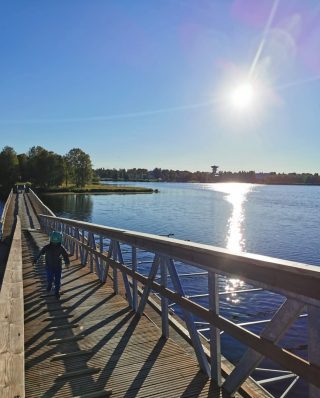 History Trail as a part of the trails
The history trail (0,7km) takes hikers from the Kirkkosaari bridges, level to a road called Tolpanniemitie, onto Pappila fields.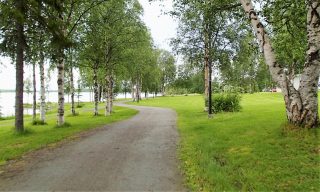 Torankijärvi Tour
From Pappila fields (120m) the trail continues to Torankijärvi tour ( 7,5km) which leads to Porkkatörmä shore and from the water's edge via Jätäri bird watching tower onto the trail behind Toranki. In Tolpanniemi, the trail turns back towards the Museum grounds and back to Pappila fields.